Evan Petzold

| Detroit Free Press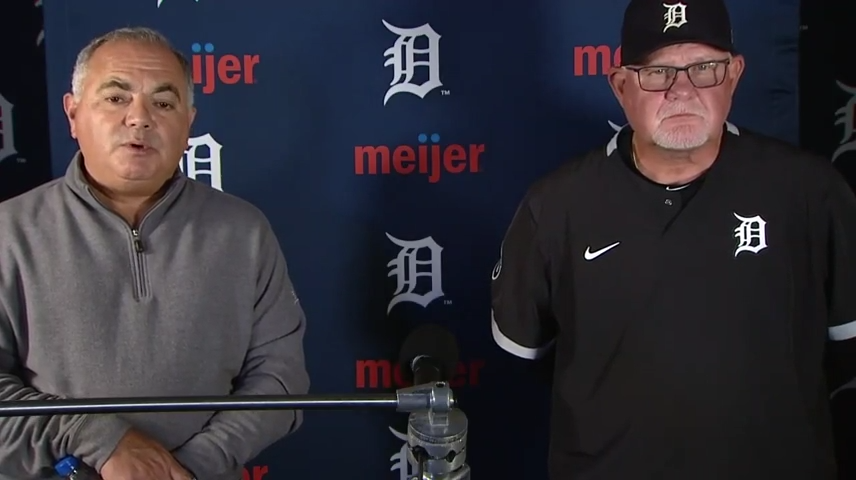 Show Caption
Hide Caption
Why Detroit Tigers' Ron Gardenhire is retiring immediately
Detroit Tigers GM Al Avila and manager Ron Gardenhire met with reporters Saturday, Sept. 19, 2020 to announce Gardenhire's immediate retirement.
Recognized as one of baseball's best managers, A.J. Hinch transformed the Houston Astros and made them a juggernaut. When he took the job before the 2015 season, the Astros needed a leader to guide their young talent.
The Detroit Tigers are in the same position, with many prospects on the rise. But following Ron Gardenhire's three-season tenure and September retirement, Tigers general manager Al Avila is tasked with hiring someone new to advance the team out of the rebuilding stage and into consistent contention for the postseason.
For the Astros, that's what Hinch accomplished.
For subscribers: Here's who Tigers should target as their next manager
In his first year, he led the franchise to its first playoff appearance since 2005. The Astros missed the postseason in 2016, but rebounded with three successful seasons: winning the World Series in 2017, making the ALCS in 2018 and returning to the World Series in 2019.
But Hinch's name is now tarnished by a sign-stealing, trash can-banging scandal.
[ Evaluating which Tigers are being passed by as rebuild marches on ]
On Jan. 13, the 46-year-old was fired by the Astros and suspended by MLB for one season. He cannot be involved with anyone in baseball until the 2020 World Series concludes, meaning the Tigers can't interview him for the time being.
While the scandal was driven by players and bench coach Alex Cora, Hinch didn't take the necessary steps to put an end to his team's illegal actions in 2017. According to MLB's investigation, he twice destroyed the monitor his players used to steal signs, but wasn't vocal toward Cora or his players about his disapproval.
In an interview with MLB Network's Tom Verducci in February, Hinch gave his first public comments on the events from the 2017 season.
When asked if he hopes to manage again, Hinch said, "I do."
"It's going to be up to other people to determine whether or not I'm the right fit, but I love managing," Hinch told Verducci in an interview on MLB Network. "I love players. I love the competition. What I've learned about myself over these few years of doing it is that player-manager relationship, that coach-manager relationship, the front office. I love being in the center hubcap of that wheel that makes it all go around. That comes with a lot of responsibility. I've been proud of how I've handled it.
"I'm not proud of talking about the issues in 2017 with the sign stealing, but I'm not going to let that deter me from my hope and desire to have a long career in Major League Baseball doing what I love."
[ Tigers already have a willing candidate for next manager: Lloyd McClendon ]
Why Hinch makes sense
He has ties to the Tigers as a member of the 2003 team that lost 119 games. He played 27 games that year under manager Alan Trammell, who remains involved with the organization. Past candidates and managers (Brad Ausmus) have had similar connections.
What sets Hinch apart is his experience working different jobs throughout baseball organizations.
After playing from 1998-2004 for four MLB teams, he spent 2005 in Triple-A and retired at the end of the season. One month later, the Arizona Diamondbacks were the first to hire him as their manager of minor league operations. In 2006, he became the director of player development.
Three years later, he replaced Bob Melvin as manager; his expertise in player development helped land him the job. Despite being fired in July 2010 (and replaced by former Tiger Kirk Gibson), he was picked up by the San Diego Padres two months later as their vice president of professional scouting. In September 2014, the Astros tabbed him as their manager.
Hinch is qualified as a seven-year player, minor-league operations manager, player development director, professional scout and two-time manager. He can recognize talented players, develop them and manage them to their full potential — and that fits the present-day Tigers.
Because he spent a year away from baseball and is hungry to get back into the game, he would likely be willing to accept the challenge. What he would be asked to do in Detroit won't be as easy as when he took over the Astros in 2015.
The Tigers don't have as much MLB-ready talent entering 2021. As glamorous as the job is because of future projections, it won't be a painless climb to the top. The Tigers will need someone with patience.
[ Tigers' 2021 Opening Day prediction: Lots of holes to plug still ]
It's safe to assume Hinch would be loyal to the Tigers throughout the process if the organization gives him an opportunity to create his comeback story. He could be a long-term hire because of the circumstances — rediscovering and proving his integrity and building a legacy in Detroit.
But Avila can't confirm that in person until Hinch has served his suspension and is eligible for an interview. Game 4 of the World Series is set for Oct. 24, with Game 7 set for Oct. 27.
And if the Tigers don't want to talk, a different team will surely reach out.
Why Hinch doesn't make sense
There's baggage.
The potential public relations blowback might be enough for the Tigers to pass. They will consider Hinch among a group including Will Venable, George Lombard, Vance Wilson, Don Kelly, Pedro Grifol, Mike Redmond, Marcus Thames, according to MLB Network's Jon Morosi, along with interim manager Lloyd McClendon.
Hinch has the experience needed to avoid an Ausmus-like flop, but his otherwise stellar resume is polluted by a cheating scandal. These two questions will be asked for years: Did the Astros deserve the 2017 World Series title? And was that championship more about Hinch helping his players take strides, or was it about players relaying signs by banging on a trash can?
There's a good chance other teams will show interest in Hinch, including the Boston Red Sox after they fired Ron Roenicke because of this year's 24-36 season (Roenicke had replaced Alex Cora … who also was tied to the Astros' scandal as Hinch's bench coach).
Because of Hinch's resume, he might end up with at least a few different options in a variety of roles, so it depends on which route he takes.
Still, the biggest concern could be his trustworthiness.
[ 2020 Tigers grades: Young bats, solid defense not enough to overpower bad pitching ]
The Tigers will need to trust Hinch to hold players accountable and implement proper discipline when necessary — ultimately his two biggest sins in the Houston scandal. Possessing a roster with young talent, and more coming to the majors from the farm system, the organization must have a dependable leader to handle the day-to-day happenings.
And if Avila doesn't think Hinch is going to be reliable, then there's no chance the Tigers hire him.
Evan Petzold is a sports reporting intern at the Detroit Free Press. Contact him at epetzold@freepress.com or follow him on Twitter @EvanPetzold. The Free Press has started a new digital subscription model. Here's how you can gain access to our most exclusive Detroit Tigers content.