Jeff Seidel

| Detroit Free Press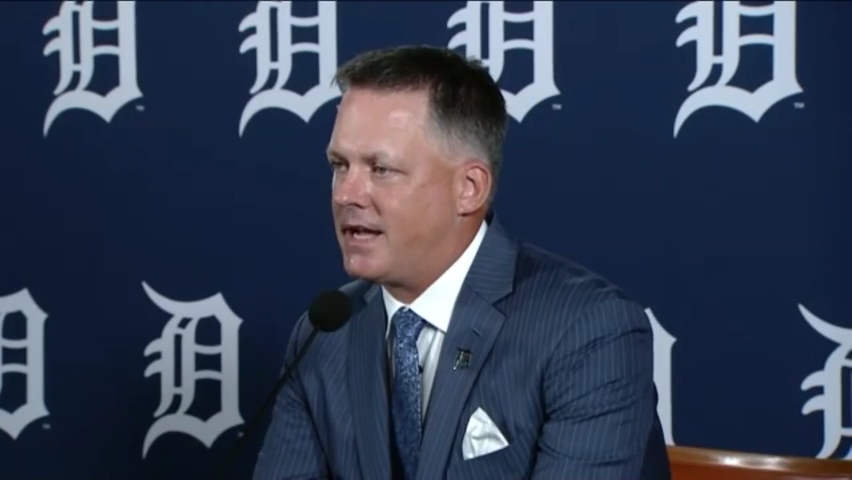 Show Caption
Hide Caption
Watch: Detroit Tigers introduce AJ Hinch as manager
Detroit Tigers owner Christopher Ilitch and GM Al Avila introduce new manager AJ Hinch, Oct. 30, 2020.
The Houston Astros didn't win the World Series until they traded for Justin Verlander in 2017.
Yes, he came from the Detroit Tigers.
So will the Tigers do something similar one day? Will the Tigers take on big contracts and spend money again when they are in position to win? Will Tigers owner Christopher Ilitch crack open his vault just a little?
AJ Hinch, the new Tigers manager, believes Ilitch will do what it takes.
"He wants to win," Hinch told me, taking about Ilitch. "And he wants to win the right way. He wants to build a sustained winner. He made that perfectly clear to me during the meetings that I had, and I've had private conversations with both he and Al (Avila) and we're all aligned with what's necessary in order to get us there."
Hinch was suspended from baseball for his role in the Houston Astros cheating scandal. A half-hour after the World Series concluded, officially ending his suspension, Avila called Hinch and invited him to Detroit.
[Detroit Tigers hiring A.J. Hinch should be a home run. But it isn't. ]
"What I found in my time here is how process-oriented (Ilitch) is, how detail oriented he is," Hinch said. "He's a very methodical thinker. That's encouraging when you're in in my shoes. There's not going to be an overreaction, really good or bad. There's a process in place to make this team into a winner again. And I'm thoroughly convinced of that otherwise I wouldn't have I wouldn't have signed on board."
Ilitch views Hinch the same way he viewed Scotty Bowman when he joined the Red Wings.
"We were meeting the other day over at Al's house," Ilitch said. "And I was telling some of the guys the old Scotty Bowman stories of which there are a lot of funny Scotty Bowman stories, but it just reminded me that when that team was to a certain point, I think as an organization, we felt we had to go out and get a very accomplished, successful manager or coach to lead that team. And I think this team, you know, is similar."
So now, the Tigers have that accomplished, successful manager, who has a track record for taking a young team and molding it into a winner.
When Hinch took over as Astros manager in 2015, he inherited an organization that lost 111 games in 2013 and had a .437 winning percentage in 2014.
Now, he's taking over a Tigers team that lost 114 games in 2019 and had .390 winning percentage in the shortened 2020 season.
"I feel like I know how to take a team from point A to point B," he said.
Obviously, it's a heck of a lot easier when you have players such as Jose Altuve, Alex Bregman, Carlos Correa and George Springer.
I prodded Hinch, asking whether there were any similarities between the team he took over in 2015 and this current group of Tigers.
"I think it's different," Hinch said. "Is Spencer Torkelson like Carlos Correa or Alex Bregman, or is Riley Green sort of the Kyle Tucker?"
Then, he stopped.
It's not a fair comparison.
"I'm gonna avoid comparisons," he said.
Fair enough.
So how will he build the Tigers into a winner?
The first step, he said, is setting a mindset and approach.
"There's certain things that are not negotiable with winning baseball, like you have to handle the ball," he said. "You have to play defense, you have to attack the strike zone in the right areas."
The next step is getting the players to believe.
"Part of developing at the major league level is getting these players to believe that they belong," he said. "There are a lot of guys on this team, looking back, that probably didn't think they were gonna play in the big leagues this year."
The final step, he said, requires a subtle but important shift.
"When you start to shift from seeing what you got to emphasizing winning, you know, that's a big step for a young team," he said.
So that's his plan.
Of course, trading for a pitcher such as Verlander, to push you over the top, isn't such a bad idea either.
Hmm. That could be interesting in a few years, if not a poetic end to a Hall of Fame career. You might as well follow the same formula.
Come on home, JV.
Contact Jeff Seidel: jseidel@freepress.com. Follow him on Twitter @seideljeff. To read his recent columns, go to freep.com/sports/jeff-seidel