Evan Petzold

| Detroit Free Press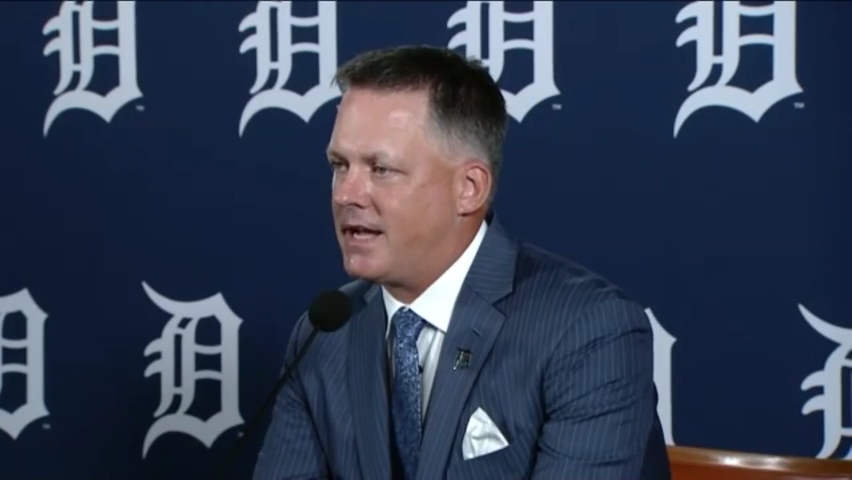 Show Caption
Hide Caption
Watch: Detroit Tigers introduce AJ Hinch as manager
Detroit Tigers owner Christopher Ilitch and GM Al Avila introduce new manager AJ Hinch, Oct. 30, 2020.
Becky Hinch's phone rang Jan. 13, at the climax of one of the dark moments in baseball history. She had no clue what was coming.
It was her son, AJ Hinch.
"It's going to come out," Hinch muttered, offering up an apology to one of the only people in the world who wouldn't judge him. And yet, the events that led to the phone call, as Becky recalled Friday, were hard to believe.
[ Want more Detroit Tigers coverage? Download our free mobile app on iPhone or Android! ]
"It's going to be on the news," Hinch continued. "I just want you to know. … MLB has come through. They're gonna suspend me."
Minutes later, Hinch called her again.
"It just got worse."
Hinch, 46, was suspended and subsequently fired that day for his inaction in preventing the 2017 Houston Astros cheating scandal, in which players and coaches on Hinch's watch devised a scheme to steal signs from opponents and deliver them to hitters by watching video monitors and banging on trash cans.
[ Explaining Detroit Tigers manager A.J. Hinch's role in Astros cheating scandal ]
Before former Astros pitcher Mike Fiers revealed the plot, blow-by-blow, in a groundbreaking 2019 interview with The Athletic, igniting an investigation from MLB commissioner Rob Manfred, Becky had no clue her son was involved.
And she wouldn't have dreamt of it, either. Her kids had been raised to toe a straight line, to act with honesty and integrity, and she watched them carry those values into their adult lives. Plus, Hinch's managerial career had become a bit of a fairy tale, a rush of success with happy endings at seemingly every turn over a five-year stretch. She couldn't have imagined it'd come undone.
Glorified in his first season with the Astros in 2015 for clinching the franchise's first playoff berth in 10 years, Hinch became a hero as he paraded through town in 2017 after leading the Astros to a World Series championship, just three months after Hurricane Harvey put the city under water.
Hinch was beloved in Houston. He took the Astros back to the American League Championship Series in 2018, then the World Series again in 2019, where he lost to the Washington Nationals. In five seasons with the franchise, he never had a losing record; his worst finish was 84-78 in 2016. And his tenure ended with him having the highest winning percentage in franchise history.
"So successful, so fast," Becky, 66, said.
Then came the crash. Then, the fallout
And, now, the second chance.
Hinch has spent the past year wondering how he allowed one of the most infamous scandals in baseball history to happen on his watch. How, when forced to weigh winning against accountability, he looked the other way. He vowed Friday, after being introduced as the Detroit Tigers' new manager, to never make the mistake again.
Hinch's role in the sign-stealing plot is a part of his story, he emphatically said during his introductory news conference, and it's not the Tigers' cross to bear. He allowed the pages of his fairy tale to burn while he penned it — and he knows it. And at the time, he knew what his players were doing was wrong. Other than smashing a couple video monitors, he ignored what was happening — and it cost him.
"That's not going to be my last chapter in baseball," Hinch professed to his mother, not long after he was suspended. "I'll rewrite that book, and my last chapter in baseball will be the way I want it to be."
[ How Detroit Tigers manager A.J. Hinch is owning Astros scandal: 'Part of my story, not Tigers' ]
Hinch comes to the Tigers not claiming to be a changed man. Instead, he said, he is a man whose focus has been cleansed by an 11-month ban from the game he loves. A man who knows winning doesn't come easy, after flaming out in his first managerial gig in Arizona, and a man who believes he can make Detroit a champion again. And hopefully soon.
"Baseball doesn't define AJ," Angie, his sister, said. "But it is absolutely a huge part of who he is and what he does. He was not going to let the incident with the Astros be the last time he stepped foot on the field.
"Expect great things from him."
'How you respond and get up'
Angie, 48, assumes they had the strictest parents on the block growing up in Midwest City, Oklahoma. The family played Wiffle ball in the street together. A vibrant game of Mexican train dominoes brought out the best — or worst — in the Hinch crew. But the daily mantras handed down from their father and mother were clear: Get good grades, make the right choices and never give up.
The love for sports was planted in Hinch by his father, Dennis. From a young age, they spent hours together in the backyard, more often than not with a baseball. When Hinch moved from Iowa to Oklahoma at 8 years old, he wanted to play competitively, but the local teams were full.
"OK, I'll be a coach," Dennis told him. "We'll get us a team. We'll get us a whole team."
That's how Hinch fell in love with baseball.
A shortstop by trade, Hinch switched to catcher as a sophomore at Midwest City High School, at the suggestion of assistant coach Chuck White. Hinch didn't complain. "He never once back-talked me or gave me a dirty look or anything," White, 67, said Friday. "He just said, 'Yes, sir,' and went about his business and made the change."
Hinch wrote the introduction to his baseball resume, based on hard work, in the process. He was drafted (as a catcher) in the second round of the 1992 draft but instead picked Stanford University, where he studied psychology and became a three-time All-American. He was on top of the world.
Until Feb. 8, 1993.
That's when his father, at 39, suddenly died of a heart attack.
"The last time you saw your dad was Christmas, and then all of a sudden you come back and there's no dad," Becky said. "There's like, 'Oh, man, I missed out on a lot.' You don't even fathom all of that until down the road. We've always lived by the fact that it's not how hard you are hit and fall down, it's how you respond and get up."
His mother had to convince him, but Hinch returned to Stanford after the funeral. Before leaving, he discovered an airplane ticket to San Francisco among his father's items. Dennis had purchased it to watch his son play college ball for the first time.
Becky made sure she was there.
"That was difficult for me, to get on a plane and watch the ballgame by myself," she said, "so freshly wounded. But it was the right thing for me, it was the right thing for AJ. He had a remarkable game. … I said, 'You did that to honor your father.' That's how I read it."
Hinch, who still has the ticket, wanted to learn more from his father, but, as Becky reminds him, he was only in college when Dennis died. "You didn't know what you didn't know," she tells him. Still, Hinch wishes he could lean on his father in the tough times, asking for advice when he doesn't know what to do.
As it was when Hinch was growing up, this would be Dennis' response to just about anything, Angie said: "The bottom line is just don't quit, and you push through adversity, and you just always do the right thing."
'Wrong is wrong'
Hinch is quick to say he didn't do the right thing when overseeing the Astros in 2017.
On Friday, he acknowledged his mistakes with remorse and invited further questions. He isn't trying to hide. He battled through the shame and adversity of a year-long ban, and he didn't give up on his dream of making a comeback.
"Wrong is wrong," Hinch said Friday, with owner Christopher Ilitch and general manager Al Avila sitting on either side of him. "And it was very wrong. I'll make sure everybody knows I feel responsible because I was the manager. It was on my watch. I'll never forget it."
[ AJ Hinch is Detroit Tigers' Scotty Bowman, Ilitch says: Hired to win it all ]
White has an everlasting bond with Hinch, having coached him in high school and having been there to hug him after his father's death. But Hinch wouldn't speak to him about the sign-stealing plot. He didn't open up to many people about it. Nor did he share the emotional impact of the ban.
He didn't have to say anything for the people closest to him to understand.
It was Hinch's first year without structured baseball activities since age 8, when his father promised to get him "a whole team."
"I knew it hurt him," White said. "I knew that he was out of place and that it was working on him, but he just kept his mouth shut. He was professional about it. He did what he had to do. He has paid his price."
Hinch spent the 2020 season at his suburban Houston home in The Woodlands, Texas, with his wife, Erin, and two daughters, 18-year-old Haley and 15-year-old Kaitlin. He shared more quality time with his wife than ever before, and he got to watch his children play soccer and tennis. The MLB lifestyle, from player to front office member to manager, held him back from important moments over the years.
He made the most of his family time.
Conversations in his home, for the most part, had nothing to do with baseball — though he watched a lot of games on TV.
But Hinch was hungry.
"A lot of learning and a lot of growing," Hinch said. "And a lot of facing yourself in the mirror on what needed to be better. A better leader, better person, better husband, better father, better baseball enthusiast. Had a lot of time to do that."
Avila, the Tigers' GM, called him 30 minutes after the World Series ended; the final out made Hinch a free man. By Wednesday morning, he was on an airplane to Detroit for meetings and interviews. At approximately 1:15 p.m. Friday, he became the new manager.
Despite Hinch's past, the Tigers trust him, and not just to win baseball games. Rather, they believe in him to push through adversity and follow through on high standards on integrity.
For Hinch, it's a chance to get back to doing what he loves and rewrite the ending of his fairy tale.
"Two or three years, four years," Becky said. "However long it takes."
Evan Petzold is a sports reporting intern at the Detroit Free Press. Contact him at epetzold@freepress.com or follow him on Twitter @EvanPetzold.