Evan Petzold

| Detroit Free Press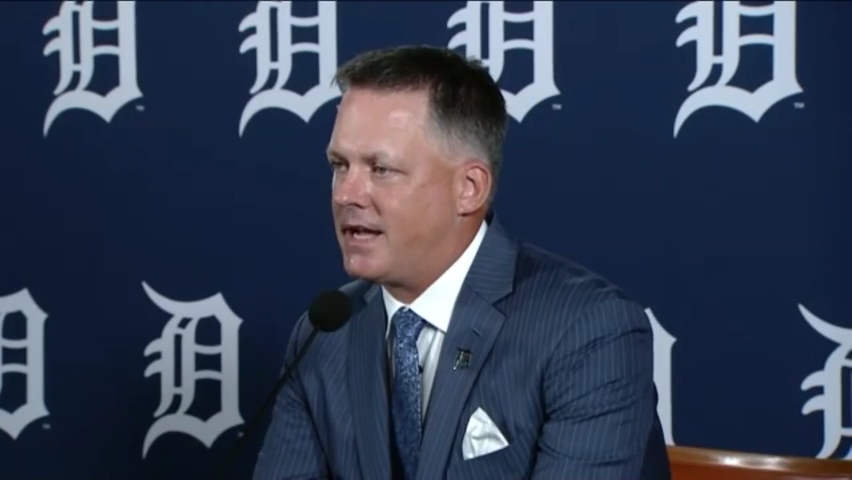 Show Caption
Hide Caption
Watch: Detroit Tigers introduce AJ Hinch as manager
Detroit Tigers owner Christopher Ilitch and GM Al Avila introduce new manager AJ Hinch, Oct. 30, 2020.
Alan Trammell doesn't want to talk about AJ Hinch as a member of the 2003 Detroit Tigers. That's because Hinch only played 27 games in Trammell's first year as a manager. And that was 17 years ago.
But now that Hinch is back in the organization, as the Tigers' new manager, Trammell, a Baseball Hall of Famer and a special assistant to general manager Al Avila, is a shoulder to lean on.
"The one thing that stands out is he's sharp," Trammell told the Free Press on Monday. "There's no question about it. The years of experience and being a winner, in my estimation, is why he's here."
THE LIFE OF AJ: AJ Hinch, the Tigers and the fairy-tale ending he's seeking
FREE AGENCY: 10 potential names for short-term contracts to survive 2021
JEFF SEIDEL: AJ Hinch reveals his 3-step plan to make the Tigers a champion
Trammell is one of many keys being utilized to help lead the Tigers back to postseason contention. He is training top prospects Spencer Torkelson and Riley Greene, among others, to prepare them for the building phase Avila preached to Hinch before the hire was made Friday.
"We do have some guys," Trammell said. "They're not quite ready yet. But maybe next year, maybe they will (be ready). Maybe we can fast forward this (with Hinch). We're hoping that he can be the guy to help that direction and those guys develop a little bit quicker."
For subscribers: Why the Tigers fans should take this crop of prospects seriously
Trammell — who played for the Tigers from 1977 to '96 and managed them from 2003 to '05 — was included in the interview process for numerous candidates. The final decision came down to Avila and owner Christopher Ilitch, but Trammell listened in and asked questions with the organization's prospects in mind.
Hinch checked all the boxes, despite his role in the 2017 Astros cheating scandal. That year, the Astros won the World Series.
[ How AJ Hinch is owning Astros scandal: Part of my story, not Tigers' ]
Preparing Hinch's crew
As a special assistant, Trammell spends most of his time developing prospects. Until recently, he was in Lakeland, Florida, for the instructional league with a 49-player roster. He also was influential in summer camp this July and at the alternate training site in Toledo in August and September.
"The development of our kids is going to hurt us, at least initially, probably more than some — I just want to make sure people understand that — because there were no minor leagues," Trammell said. "We're not the only ones. But there are also groups of teams further ahead at the major-league level."
The future of the franchise is anchored by four pitching prospects: right-handers Casey Mize, Matt Manning and Alex Faedo and left-hander Tarik Skubal. Likewise, Torkelson, a third baseman, and Greene, an outfielder, are expected to take on primary roles during the Hinch era.
To make up for the minors getting canceled, Mize and Skubal were pulled up to the majors in August. Torkelson and Greene went to the alternate training site after summer camp and are now competing in instructional league games and intrasquad scrimmages.
"The two guys that really stand out are Riley and Tork," Trammell said. "Others have done well, but they have been at the forefront of that. Like to just say, 'Hey, let's let them go,' but both of them haven't got enough (experience)."
Torkelson was the No. 1 pick this year, and while Greene, the No. 5 pick in 2019, put on a show in summer camp, he only has 57 games of minor league experience.
The Tigers are banking on Hinch to help Torkelson, Greene and the pitching prospects adjust to the major leagues. Ideally, that happens sooner than later. But it's Trammell's job, along with the player development staff, to teach the fundamentals needed to fill the roles that Jose Altuve, or Carlos Correra, or George Springer, or Alex Bregman held while making the Astros a perennial contender in five years under Hinch.
At the time of Hinch's arrival, they were still developing: Correra was 20, and Altuve and Springer were 25. One year later, Bregman joined them as a 22-year-old. And the next year, amid the sign-stealing plot, the Astros were champions.
"How close are we similarity wise? Eh, it's close. It's similar," Trammell said. "We're rebuilding, not starting from scratch like we were a few years ago. We've made some progress. He was a big part of that (in Houston), and their growth.
"Fast forward to us, we think that we have somebody that can kind of mold that group together."
Evan Petzold is a sports reporting intern at the Detroit Free Press. Contact him at epetzold@freepress.com or follow him on Twitter @EvanPetzold.