Jeff Seidel

| Detroit Free Press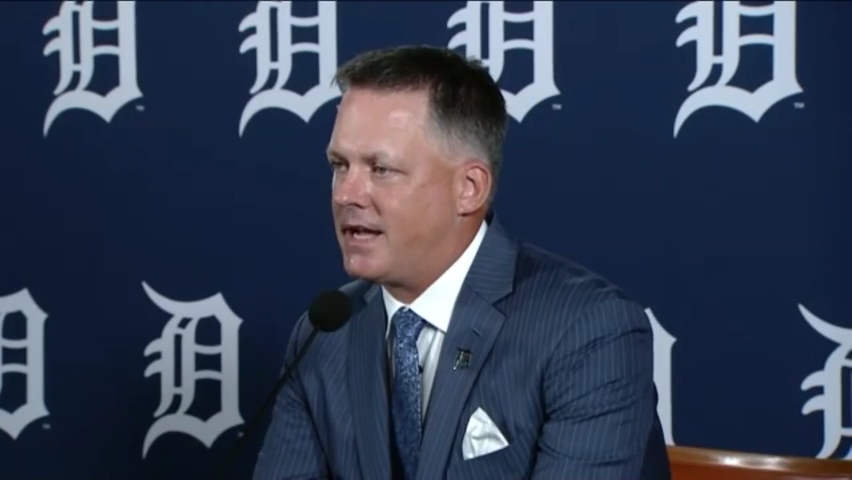 Show Caption
Hide Caption
Watch: Detroit Tigers introduce AJ Hinch as manager
Detroit Tigers owner Christopher Ilitch and GM Al Avila introduce new manager AJ Hinch, Oct. 30, 2020.
LAKELAND, Fla. –— I asked Riley Greene, the Detroit Tigers' 2019 first-round draft pick, a simple question.
"Name a guy who maybe everybody hasn't heard of," I asked, "and you're like, 'Man, that guy's a freakin' stud?' "
Without hesitation, he named Jason Foley, a 24-year-old right handed pitcher.
"He's got a pretty good story behind him," Greene said. "The past couple times I've seen him pitch, I've been like 'Wow.' I've been amazed, and I keep telling myself, 'That guy's gonna be a big leaguer one day.' "
[ Riley Greene is the alpha male of the Tigers' rebuild. Here's how I know ]
"He throws the ball really hard and it moves," added Spencer Torkelson, the No. 1 overall pick by the Tigers in June. "It's a double whammy."
Yes, Foley has a wild story — a guy who has overcome Tommy John surgery and throws in the high 90s.
But Greene and Torkelson left out something else.
Foley is hilarious.
Zingers galore
The Tigers held an intrasquad scrimmage at Joker Marchant Stadium on Tuesday morning, the first game of the so-called Tigers World Series, and Foley was in the dugout, talking trash.
He yelled across the diamond at Daniel Pinero, a 26-year-old first baseman.
"Hey, No. 34, are you in the lineup?" Foley asked. "I'm surprised you made the lineup."
After the ump made some bad calls, Foley fired off: "Do you have to make a tee time or something?"
Then, Pinero was on base and a pitcher attempted a pick off, trying to keep him close. "Don't worry, he runs with a piano on his back," Foley yelled.
Harsh?
"He's one of my best friends," Foley said, and laughed.
'Lights out'
As far as a good story, well, Greene was right.
Foley was a late bloomer, who graduated from high school throwing 90-91 mph. "It wasn't like anything impressive," he said.
Foley never expected to play in college. "I was decent," he said. "I played for fun. I never thought playing college was really a possibility. I just kind of played with my buddies, never played on any big travel teams that went all over the country."
Foley played at Sacred Heart University in Connecticut, accepting the only Division I scholarship offered to him. "My freshman year went extremely well," he said. "I started out as a bullpen pitcher."
When he moved to the starting rotation, he struggled as a sophomore and junior. But he pitched out of the bullpen during summer ball and was outstanding. "That's when a lot of major league scouts started asking about me," he said.
He caught the eye of the Tigers after his junior year, throwing 97 mph in summer ball.
"I was pretty lights out that year," he said. "I woke up one morning with a voicemail from a Tigers scout. We literally signed a contract the following morning in a dinner near my summer-ball field."
The Tigers made him a relief pitcher, where has found a home. During one game, he touched 101 mph, but he isn't sure on the accuracy of the radar gun.
He blew out his elbow in 2017, had surgery and missed the 2018 season. He was on strict pitching guidelines in 2019 and was looking forward to 2020
During minor league spring training earlier this year, he started throwing a two-seam fastball.
"We made a little bit of adjustment," he said. "We were looking at some analytical stuff and realized that my four-seam kind of played pretty flat, and when I changed to a two-seam grip, I had a lot more sink and downward action to the ball, and I was getting a lot of ground balls. So I started throwing that in spring training. And unfortunately, I only had a couple outings with it."
The coronavirus pandemic canceled the minor league season.
'Nastiest pitch'
What do the Tigers think of Foley?
Enough to invite him to train at their alternate site in Toledo.
"It was great," Foley said. "It was just an absolute honor to get the call. I mean, I definitely enjoyed my time there. And I felt like I made the most of it. All eyes are on you at all time. It was a good opportunity to show what you got and show you deserve a spot hopefully one day in the big leagues."
Since the Tommy John surger, he hasn't lost much velocity at all, sitting between 95 and 99 mph. "It's still pretty good," Foley said. "I feel good and 100% back."
Now, he has moved to instructional ball and he's been pairing his two-seam sinker with a nasty slider.
"It doesn't seem to have much velocity drop-off, if any," he said. "So that's been really good. I've been really happy with the way it's been coming along and I'm getting some really good feedback as well."
On Wednesday afternoon, Foley came out of the bullpen and closed out a win for Team Greene in Game 2 of the Tigers World Series, securing a 3-0 win.
He was throwing gas, mixing in a nasty slider and struck out Colt Keith, a 2020 draft pick.
"Nastiest pitch I've ever seen," Keith told me.
"Don't feel bad," I said. "Torkelson and Greene were saying the same thing."
A guy with a great story and nasty stuff.
As Torkelson said, Foley is a double whammy.
Contact Jeff Seidel: jseidel@freepress.com. Follow him on Twitter @seideljeff. To read his recent columns, go to freep.com/sports/jeff-seidel/.