Jeff Seidel

| Detroit Free Press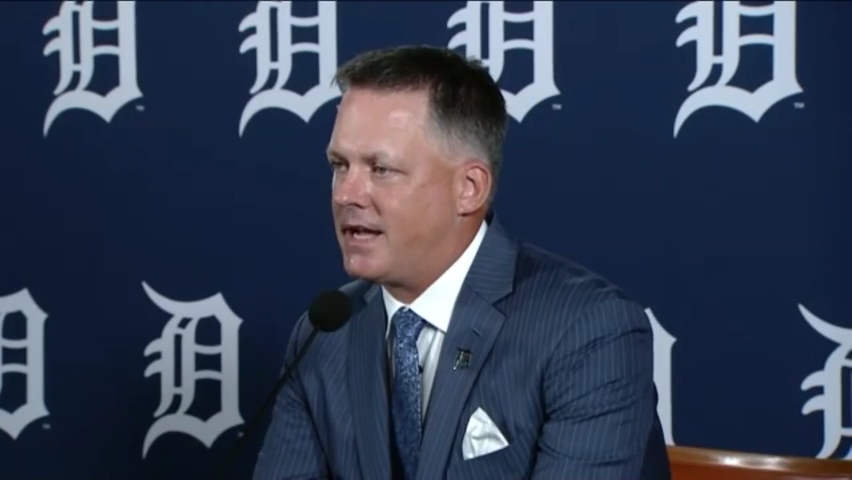 Show Caption
Hide Caption
Watch: Detroit Tigers introduce AJ Hinch as manager
Detroit Tigers owner Christopher Ilitch and GM Al Avila introduce new manager AJ Hinch, Oct. 30, 2020.
Gage Workman turned to prayer before making one of the most important decisions of his life — a decision that would ultimately lead him to the Detroit Tigers.
Should he put baseball on hold, leave college and go on a two-year Mormon mission, as he had planned his entire life? He had prepared for it and graduated from high school a year early, just to set up this moment.
Or should he finish out his career at Arizona State and enter the 2020 MLB draft?
"There was a lot of thought that went into it," he said.
And a lot of prayer.
Workman's father, Widd, played baseball at Brigham Young before leaving school and doing a two-year mission in Iowa. Widd finished his college career at Arizona State before playing minor league baseball.
"When you decide to go on a mission, you fill out papers and then they send them back to you," Gage said. "They let you know where you are going and you can go really anywhere in the world. I've had cousins and family go to Brazil. I've had cousins go stateside to Idaho. I've had cousins go to Guatemala. So you could go all over the world and they let you know right before you leave pretty much."
If he went on a mission, he would miss two college baseball seasons.
"It was a tough decision for sure," he said.
There was also an age issue that complicated the decision. If he took two years off, he would be older and less desirable to MLB clubs in the future. The younger you are, the more MLB teams like you.
"There was a lot of thought that went into it and discussion with different people and I finally came to the conclusion and I felt comfortable with the fact that I was where I was supposed to be," he said.
So he stayed at Arizona State and didn't go on the mission.
But maybe, he found a different way to serve. Maybe, baseball is his calling. Maybe, by choosing this path, he will reach even more people and tell his story on a bigger stage and share his faith, as a member of The Church of Jesus Christ of Latter-day Saints.
He finished a brilliant career at Arizona State, and the Tigers took him in the fourth round this year.
"I'm loving it," said Workman, the No.22-ranked Tigers prospect by MLB Pipeline. "The guys are great, some of the best teammates I've ever had. I mean, they are just good dudes."
Which is pretty much how they describe him.
A NEW CHALLENGE: Scouting prospects in the age of COVID-19
ABSOLUTE GAS: Detroit Tigers' prospect throws 'nastiest pitch I've ever seen'
5,000-FOOT BOMBS?: Inside the bromance of Riley Greene and Spencer Torkelson
'The perfect human'
Spencer Torkelson, the Tigers' 2020 first-round pick, played three seasons with Workman at Arizona State.
"Unbelievable guy," Torkelson said. "He's literally the perfect human. That's the guy that you want your daughter to take home and tell you that's her boyfriend."
"I was just about to say that," Riley Greene, the 2019 first-round pick, said. "He's been a great guy. Down to earth. Always working hard on the field. Like Tork said, I would want my daughter to bring him home because he's such a great guy."
Torkelson and Workman are close friends and used to room together on road trips.
"He's also a great baseball player," Torkelson said. "Switch hits, plays a great third-slash-shortstop. So yeah, he's legit."
Workman played third base at Arizona State, mainly because the Sun Devils had so much talent. Alika Williams, who was taken by Tampa Bay in the first round, played shortstop and Torkelson played first base, just so they could get all three players on the field.
But Workman can play either short or third.
"I'd like to think I'm pretty good on the left side," Workman said. "I've had a kind of a lot of time at both positions. So I'm honestly pretty comfortable at either position."
The Tigers are giving Workman a look at shortstop because he is such a good athlete and they want to see if he can handle it.
"A real good looking athlete physically, about 6-4 maybe 205, lean and long. fluid and mobile," said Dave Littlefield, the Tigers vice president of player development. "It's a good start. Switch hitter. He played third base in college but we're gonna try to push the envelope a little bit and see if he can handle some shortstop and kind of see how that plays out for a little while."
Suddenly, the Tigers have an influx of young potential shortstops or third baseman: 21-year-old Workman, 21-year-old Torkelson, 21-year-old Isaac Paredes, 21-year-old Wenceel Perez, 19-year-old Colt Keith, 19-year-old Adinso Reyes, 23-year-old Nick Quintana and 22-year-old Trei Cruz.
"You are never gonna have enough shortstops." Littlefield said. "Trying to even develop Major League shortstops is very challenging. We've got a variety of guys there. Part of player development is you want to try to get as much out of them as they have physically. We want to challenge guys to help them develop to be above average players. In Workmean's case, we want to see if he can handle shortstop and see where things go."
[ What makes Detroit Tigers pitching coach Chris Fetter the perfect hire ]
Detroit Tigers pitching coach Chris Fetter ready to develop rotation
Detroit Tigers pitching coach Chris Fetter is introduced Friday, Nov. 6, 2020, as an addition to new manager AJ Hinch's coaching staff.
Building confidence as a pro
When he arrived in Lakeland, Florida, on Sept. 30 to play in the instructional league, Workman said there was a little voice in his head that was asking: "Am I ready for this? Can I hang with these guys?"
"That went away quickly — I feel I belong here and can play here," he said. "I think I've done well for the most part. I'm just glad I've been able to get reps to get that rhythm back in the swing a little bit. Being on the field and taking ground balls is the biggest thing."
Workman is a 6-foot-4 switch-hitter. But he needs to cut down on his strikeouts; he had 138 of them to go with 137 hits in college.
To this point, the Tigers have not tweaked his swing.
"Since I've been in Lakeland the coaches are — I like them a lot, still trying to get a feel for me, just kind of seeing how I play first before they tweak or change anything," Workman said. "We haven't done a whole lot to change anything. I think it just takes a little bit time to just to kind of be comfortable with one another and trust what each other is saying. So we're still kind of just building relationships."
He had to adjust quickly to faster pitching in Lakeland. In college, when somebody threw in the upper 90s, they would prepare for that pitcher all week. He's finding, that kind of pitcher is almost common these days.
"Now, it's just every other dude rolling out of the bullpen," he said.
[ Why Tigers believe 17-year-old Roberto Campos will become a star slugger ]
The minor adjustment
Workman learned baseball from his father, who was a pitcher.
"I never really had a hitting coach or infield coach or someone to teach me how to throw," he said. "I pitched a little bit when I was really young, but it was kind of him just doing reps with us. It was really him teaching us everything he knows kind of to the best of his ability. And he's done a pretty good job, I'd say."
Widd Workman played four seasons of minor league baseball in the Padres and Dodgers organizations, reaching Double-A.
He has prepared his son for the mental grind of minor league baseball.
"Minor league baseball is more of a marathon where college ball is kind of sprint, as far as games go," Gage Workman said. "He's also taught me about work ethic and a lot of mindset stuff, as far as just being mentally tough and kind of be able to bounce back from tough things. Because he's been there."
[ Detroit hires three coaches: George Lombard, Scott Coolbaugh, Chip Hale ]
Faith is 'who I am'
Workman lived in the dorms near Joker Marchant Stadium. The players were mostly locked down because of the coronavirus pandemic. So he filled his time reading the scriptures daily, saying morning and evening prayers and watching church on Zoom.
"It is just kind of a routine of what I do," he said. "There is a lot of uncertainty. You got COVID. You got a new environment of pro ball. But I feel like my religion gives me certainty, gives me a foundation, gives me a sense of peace."
His faith is the center of his core.
"It's who I am," Workman said. "I mean, it's top on my priority list. I've lived it my whole life and my plan to keep living it. It's blessed me and I think it's really helped me along the way. So I guess you can say it's pretty much everything to me."
His goal — the same as several of the players he met in instructional ball — is to play in the major leagues.
"I definitely look forward to playing with these guys," he said. "And I was talking to some of the guys, it's gonna be pretty cool when some of the guys get to the big leagues and we look back and we're like, man, we were all 20, 21, 22 years old and playing instructional with each other and now we're now in the big leagues together. And I think that'll be pretty, pretty fun."
That's the dream anyway.
And he has faith it's going to happen.
Contact Jeff Seidel: jseidel@freepress.com. Follow him on Twitter @seideljeff. To read his recent columns, go to freep.com/sports/jeff-seidel/.
Detroit Tigers' Spencer Torkelson crushes homer in instructional league
Detroit Tigers top prospects Riley Greene and Spencer Torkelson put together solid at-bats in the first inning of an instructional league game, Monday, Oct. 19, 2020.