Lakeland, Fla. — It's not the same, it really isn't. Sure, every spring he's in the best shape of his career. Every spring, he's brimming with energy and enthusiasm. Every spring with Miguel Cabrera, hopes and high spirits abound.
All that is true again as Cabrera, soon to be 38 years old, embarks on his 19th big-league season. He's healthy, for starters. He's thrilled that new manager AJ Hinch is going to keep him in the mix at first base, even if it's twice a week. He's fully embraced being the old soul in the center of the clubhouse.
OK, maybe not fully.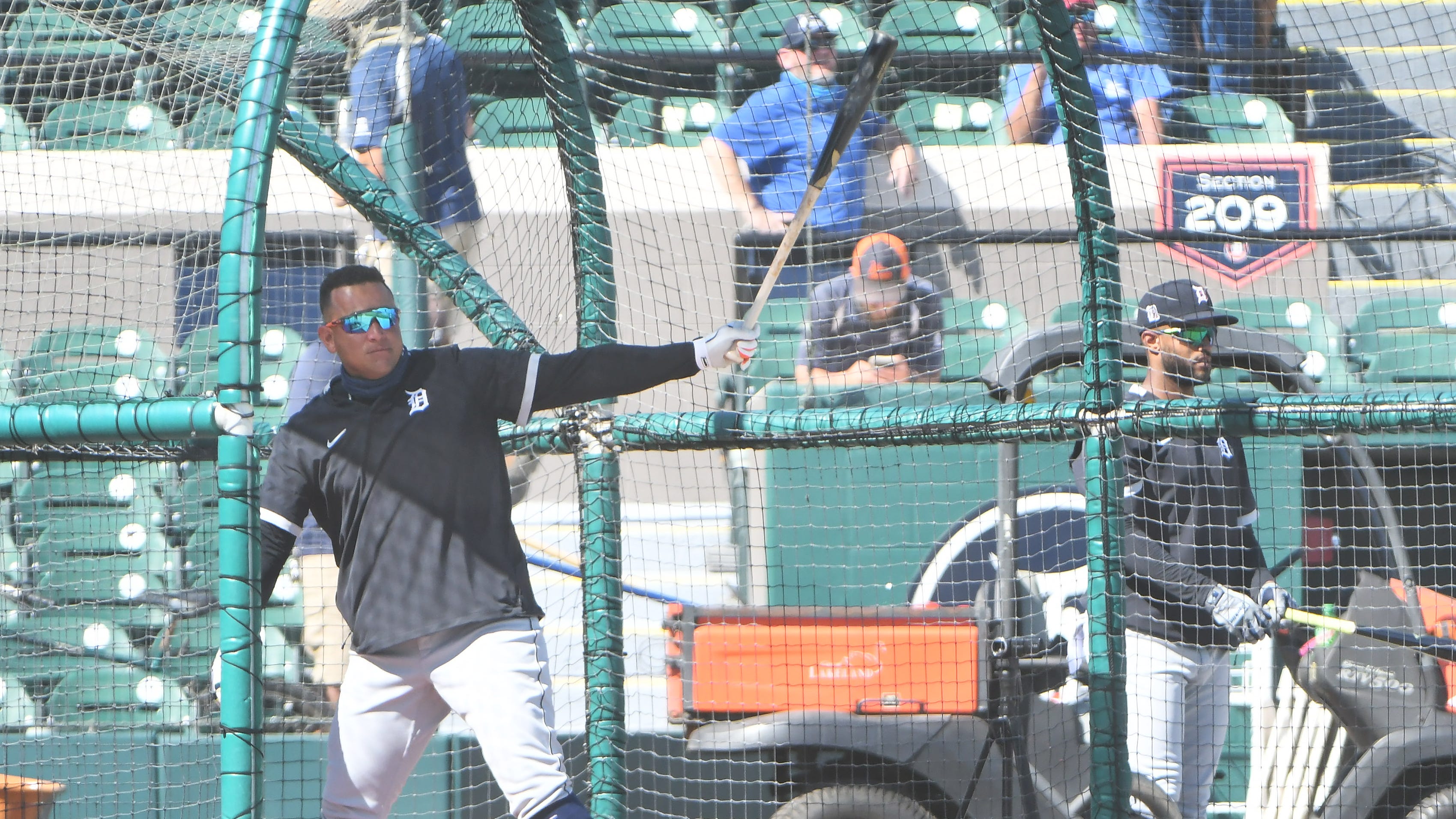 "I'm not that old," he said, laughing. "I'm still young."
But there is something different about Cabrera's playfulness and boundless joy this spring. It's tinged with, what — not melancholy, certainly not. Maybe it's wistfulness. Time, as it does, is running thin.
"There's only a finite number of years these guys can play," Hinch said Friday. "We've been spoiled to get close to a 20-year career out of Miggy. Each season is important, but each season is more important as you get closer to the end of a contract or closer to age 40."
Looming for Cabrera, of course, is his quest for 3,000 hits and 500 home runs — two hallowed markers of greatness in the game of baseball. He needs 134 hits and 13 home runs to join Hank Aaron, Willie Mays, Eddie Murray, Rafael Palmerio, Albert Pujols and Alex Rodriguez in that exclusive club.
"I hope we can do both," Cabrera said. "That's one of my goals this year. Mentally I feel good. I feel strong mentally. Just try to go day by day and play hard."
More: Tigers manager Hinch keeping a wary eye on Cabrera's on-field workload
But it's not just about the accumulation of numbers. Cabrera has been part of a team that's lost 345 games the last four years. Before that, he endured just two sub-.500 seasons with the Tigers. He doesn't want the 2021 season to devolve into an empty pursuit of milestones. He wants the milestones to be attained in pursuit of something bigger.
Like being at the center of the Tigers' return to prominence.
"You know, 3,000 hits and 500 home runs is something I never think about (in the past)," Cabrera said. "You think of it in the back of your mind. Like, someday I hope I can do that. But right now, being in this position is pretty awesome. I'm pretty proud of what I've done in my whole career.
"But, like, don't try to stop here. Try to keep going. Try to put up some nice numbers and have fun — but win games. If we can win a lot of games, then the numbers are going to be there at the end of the season."
Cabrera said he was encouraged by what general manager Al Avila did this offseason, bringing in veteran position players like Robbie Grossman, Wilson Ramos and Nomar Mazara, as well as re-signing Jonathan Schoop. He's fired up by the hiring of Hinch, too, and seems to have a great rapport with hitting coaches Scott Coolbaugh and Jose Cruz.
"I'm pretty hungry to get back to winning," Cabrera said. "It's no fun at all to play and lose almost every day. Right now we've got a really good club to compete. I think we have good young talent. If we put everything together, I think we can win more games than we did last year and the year before."
Gravitational pull
Yeah, about those kids. He's still not used to players coming up and telling him they watched him play when they were growing up.
"That's a little weird," he said, laughing.
It's also a little humbling, especially when they start asking him, with unabashed awe and wonder, about hunting 500 homers and 3,000 hits.
More: To-do list for Tigers' Gregory Soto: Master strike zone, incorporate 4-seam fastball
"The way they talk to me, you can see it in their faces how excited they're going to be," Cabrera said. "They care about me and that means a lot. We are family. If we can stick together and be able to go out and play together, we are going to be a different team."
Hinch has watched this dynamic play out in the clubhouse, the gravitational pull that Cabrera has.
"It's a good thing Miggy's a fun-loving, youthful spirit and not a mean, grumpy dude because everybody goes to him," he said. "He's the center force in the middle of our clubhouse."
It extends beyond the clubhouse, too. His batting cage sessions become must-see events regularly.
"His presence on a team cannot be overstated," Hinch said. "The back of his baseball card doesn't lie, for sure, but just the consistency in how he prepares and what he does on the field, his cage routine — all these things. I know that's exactly why he's been able to be as good as he's been for as long as he's been.
"That presence is huge."
Cabrera hasn't always embraced a mentor's role. He's preferred to let his performance speak for him. That's not the case anymore. He's taken Jeimer Candelario under his wing, for starters, and he's made himself available to everyone.
"What I learned the last two years is I need to talk more," Cabrera said. "To me, the way I play on the field was my talk. But right now, we've got a lot of young guys and they ask a lot of questions. I've been trying to open up and talk to those guys and teach what I've learned in my career.
"That makes me keep going."
Ironically, one of Cabrera's main lessons to young players is, talk less, work more.
"The way I improve is the way I work, the way I do my batting practice, the way I take ground balls in the field," he said. "You get better when you practice, when you do the extra work, not by talking. When you talk a lot, you're going to miss work on the field."
Like the rest of the organization, Cabrera is anxious for the arrival of top offensive prospects Riley Greene and Spencer Torkelson.
"I can tell you, I see a lot of good years in Detroit," Cabrera said. "Those guys are impressing everybody here in big-league camp. We watched them last year in mini-camp, too. I can't wait when those guys make the next step and get to the big leagues.
"These guys are really awesome and they're going to be great baseball players."
More: Tigers' Spencer Torkelson will miss some time after cutting his finger
You coach Miggy, too
Hinch didn't need to take the wraps off his glove and let him play first base to win Cabrera over. Cabrera had already gotten a glowing reference from Jose Altuve and others.
"He's been great," Cabrera said of Hinch. "He's got good communication with us. Even in the offseason, when he signed with us, he called everybody and started a relationship. We've got a good feel for what he wants, and we'll go from there."
Hinch's plan for managing Cabrera didn't come from any psych text, either. The plan is to communicate with him and to coach him. Radical, huh?
"You can't just go hands-off because he's Miguel Cabrera and a future Hall-of-Famer," Hinch said. "He's going to have days when he's a little lost, too, even with his greatness. It's up to our coaches to be able to find those keys and get him back on track.
"It's not a hands-off approach just because he's Miguel Cabrera. Any great player I've been around wanted it that way. They want help, too. They don't want to be left out there on an island by themselves."
In Cabrera, Hinch has a universally-respected object lesson to draw on when he's talking about consistency of routine and attention to detail.
"Oftentimes, great players like him don't get credit for the attention to detail they focus on," Hinch said. "Watching Miggy work, listening to him talk about hitting — it's very obvious when you are around him why he's been such a dominant offensive player for a couple of decades."
Hinch said he hasn't really been surprised by anything he's encountered with Cabrera thus far. He's just been, well, delighted.
"The amount that he sees, that he watches and pays attention to, it's not a surprise, but I'm happy he does that," Hinch said. "He's very open about what his experiences are, what he's seen out of the young players that have come here.
More: Spring-training ticket prices skyrocket from 2020; Tigers' average price nearly doubles
"I mean, he's seen it all in the recent years of Tigers baseball. From the time they were super competitive and gone to World Series before through bottoming out as a rebuild — the one constant has been Miggy in the middle of the clubhouse."
Cabrera said he's talked to both Albert Pujols and Nelson Cruz for tips on maintaining productivity late in their careers.
"Just to see how they think and how they work," he said. "I have a pretty good idea of what I had to do to prepare myself to play and have the same success as those guys."
Cruz was an All-Star at age 37 and hit 41 homers with 108 RBIs at age 38. Pujols hit 23 homers with a 101 RBIs at 37, 19 and 64 at age 38. But that's not the bar Hinch is trying to set for Cabrera.
"He's not chasing what he was before," Hinch said. "Just be the best version of himself right now and he's going to be very productive. We put these expectations and goals on these guys and then we judge them based on that.
"Just give me what you got for as long as you can and that will be good enough."
cmccosky@detroitnews.com
Twitter: @cmccosky