Evan Petzold

| Detroit Free Press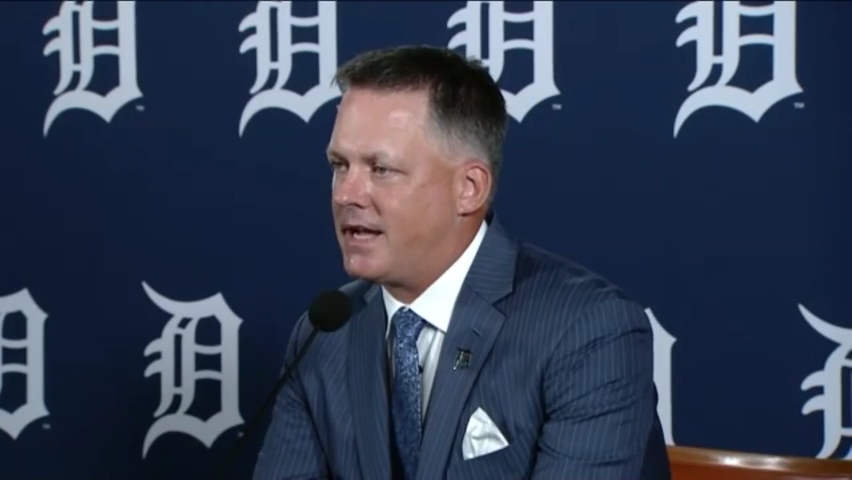 Show Caption
Hide Caption
Watch: Detroit Tigers introduce AJ Hinch as manager
Detroit Tigers owner Christopher Ilitch and GM Al Avila introduce new manager AJ Hinch, Oct. 30, 2020.
The Detroit Tigers have three open spots on the 40-man roster.
And they have plenty of prospects they'd like to keep within the organization. The Rule 5 draft in December puts some of those players at risk of being poached by other teams. For a player to be protected, he must be added to the 40-man roster by Nov. 20.
College picks from the 2017 draft and earlier, high school selections from the 2016 draft and earlier and international signees from the 2016-17 period and earlier are eligible to be taken in the Rule 5 draft.
[ Want more Detroit Tigers news? Download our free mobile app on iPhone & Android! ]
Players selected must spend the entire 2021 season on the active roster or be offered back to their former team for $50,000.
These are the prospects most likely to be protected from the draft this winter:
Drafted: 2016, No. 9 overall.
Age: 22.
2019 season: Double-A Erie.
The buzz: Manning is one of the three locks the Tigers must protect from the Rule 5 draft. He is the team's No. 3 prospect — behind Spencer Torkelson and Casey Mize — and is on the brink of reaching the majors. The Tigers sent him to summer camp in July and the alternate training site in August and September.
[ What Matt Manning is doing to join Casey Mize, Tarik Skubal in MLB ]
Manning has a fastball that touches 97 mph and can go to his curveball and change-up at his discretion. He showcased his command in 2019 with 2.6 walks per nine innings. The 6-foot-6 flamethrower had career bests in ERA (2.56) and WHIP (0.980). He reached 133⅔ innings across 24 starts, striking out 148 of the 527 batters he faced with 38 walks.
Barring an injury, it's safe to assume Manning will be in the majors in 2021.
In late August, Manning was shut down in Toledo with a forearm strain. He went to see four doctors, and they told him not to be concerned. Manning said in a typical season, he would've missed a few starts and then returned. As of October, he has fully recovered.
Drafted: 2017, No. 18 overall.
Age: 24.
2019 season: Double-A Erie.
The buzz: The second of three easy decisions, Faedo underwent the same forearm strain in late August in summer camp. He went with Manning to see the doctors. They told him the same: there's no long-term damage. Manning and Faedo worked out at the team's facility in Lakeland, Florida, during the instructional league this fall, but they weren't on the roster for games or scrimmages.
[ Recovered from COVID-19, Alex Faedo doesn't want to be 'babied' with innings limit ]
Faedo, the team's No. 10 prospect, struggled in 2018 but refined his stuff in 2019. His fastball went back to the mid-90s and his slider returned to the crafty swing-and-miss pitch it was during his college career. His command improved, as well, with 2.0 walks per nine innings and 10.5 strikeouts per nine innings.
If all goes smoothly in spring training, the 6-foot-5 righty should get to pitch in the majors in 2021. The Tigers will need to protect him.
Drafted: 2016, No. 40 overall (by Atlanta Braves).
Age: 23.
2019 season: Double-A Erie.
The buzz: Wentz is the third and final lock for protection from the Rule 5 draft. He climbed up the prospect board but faced a setback with Tommy John surgery in March 2020. Still, Wentz is the team's No. 9 prospect and projects as a member of the big-league starting rotation.
The Tigers acquired Wentz (and outfielder Travis Demeritte) from the Braves in the Shane Greene trade in July 2019. The 6-foot-5 lefty joined the ranks of Mize, Manning and Tarik Skubal in Erie, registering a 2.10 ERA, 0.935 WHIP, 37 strikeouts and four walks in 25⅔ innings.
[ Here's why Detroit Tigers prospect Joey Wentz 'fits right in' with other top arms ]
Had Wentz been healthy, he would have accompanied Mize, Skubal, Manning and Faedo on the summer camp and alternate training site roster. Because of his elbow surgery, don't expect him in the majors until at least 2022. But Detroit can't afford to lose Wentz to a franchise willing to stash him on the active roster and injured list. He will need to be added to the 40-man roster.
Drafted: 2017, No. 30 overall (by Chicago Cubs).
Age: 25.
2019 season: Double-A Erie.
The buzz: This is the player the Tigers may be most at risk of losing, assuming they don't make room on the 40-man roster. Detroit acquired Lange (and righty Paul Richan) from the Cubs in the Nicholas Castellanos trade in July 2019. General manager Al Avila said both prospects have "upside to get to the big leagues" as contributors.
[ Detroit Tigers can still win Nicholas Castellanos trade if these 2 pitchers become pieces ]
Lange had a starting role for the Cubs, but he transitioned to the bullpen after the trade, giving him long-relief and spot-start capabilities. His fastball averaged about 93 mph at the team's instructional league.
The Tigers have him penciled into the future, and he should be ready for the majors in 2021. For Erie in 2019, Lange had a 3.45 ERA, 1.340 WHIP, 15 strikeouts and eight walks in 15⅔ innings. If the Tigers end up with a fourth spot on the 40 man, it should go to Lange.
Drafted: 2017, 12th round.
Age: 25.
2019 season: Triple-A Toledo.
The buzz: Vest's fastball touched the upper 90s in the instructional league and consistently sat around 95 mph. There's no doubt he has an arm for the majors, but the Tigers could give him extra time to develop his secondary pitches. He performed well in the minors in 2019 — outside of a few struggles in Erie.
Vest had a 0.84 in 21⅓ innings in High-A Lakeland in 2019, sending him to Double-A, where he produced a 5.33 ERA with nine walks and 25 strikeoutsin 27 innings. He climbed to Triple-A Toledo, giving up 2 earned runs in 6⅔ innings across three games.
Signed: July 2016 from Dominican Republic.
Age: 21.
2019 season: Single-A West Michigan.
The buzz: Ranked as the team's No. 16 prospect, the switch-hitting Perez is at risk of being selected in the Rule 5 draft. The Tigers signed him from the Dominican Republic in July 2016.
Perez cruised through the 2018 season, reaching Single-A as an 18-year-old, but he slumped at the plate for West Michigan in 2019 with a .233 batting average. He wasn't great at shortstop, either, with 33 errors in 472 chances. His lack of consistency in the infield was a problem in the instructional league this year, too.
There's upside for Perez because of his switch-hitting ability, speed and athleticism.
Drafted: Undrafted, signed August 2016.
Age: 25.
2019 season: High-A Lakeland.
The buzz: This guy has votes of confidence from Torkelson and No. 4 prospect Riley Greene, so he deserves a spot on the list. Foley touches 100 mph on his fastball and averages between 95-99 mph, even after missing the entire 2018 season because of Tommy John surgery and being on a strict pitch-count limit in 2019.
[ This Tigers prospect throws absolute gas: 'Nastiest pitch I've ever seen' ]
His fastball has wicked downward movement, thanks to switching to a two-seam fastball in minor-league spring training before the COVID-19 pandemic nixed his season. Also, he is adding an improved slider to his arsenal.
Other candidates: RHP Angel De Jesus, OF Danny Woodrow, C Eliezer Alfonzo, RHP Elvin Rodriguez, OF Jacob Robson, OF Jose Azocar, RHP Logan Shore, RHP Nolan Blackwood, OF Ulrich Bojarski, RHP Wilkel Hernandez, RHP Wladimir Pinto, RHP Shao-Ching Chiang.
Evan Petzold is a sports reporting intern at the Detroit Free Press. Contact him at epetzold@freepress.com or follow him on Twitter @EvanPetzold.