Welcome to Lakeland's Publix Field at Joker Marchant Stadium, where Detroit faithful have been gathering since the 1960s to see the Tigers of the future under the Florida sun.
Lakeland Flying Tigers (Single-A affiliate of the Detroit Tigers since 1963)
Established: 1960 (as Lakeland Indians in Florida State League)
Ballpark: Publix Field at Joker Marchant Stadium (since 1966)
Notable Alumni: Mark Fidrych, Kirk Gibson, Curtis Granderson, Jim Leyland, Jack Morris, Lance Parrish, Rick Porcello, John Smoltz, Justin Verlander, Lou Whitaker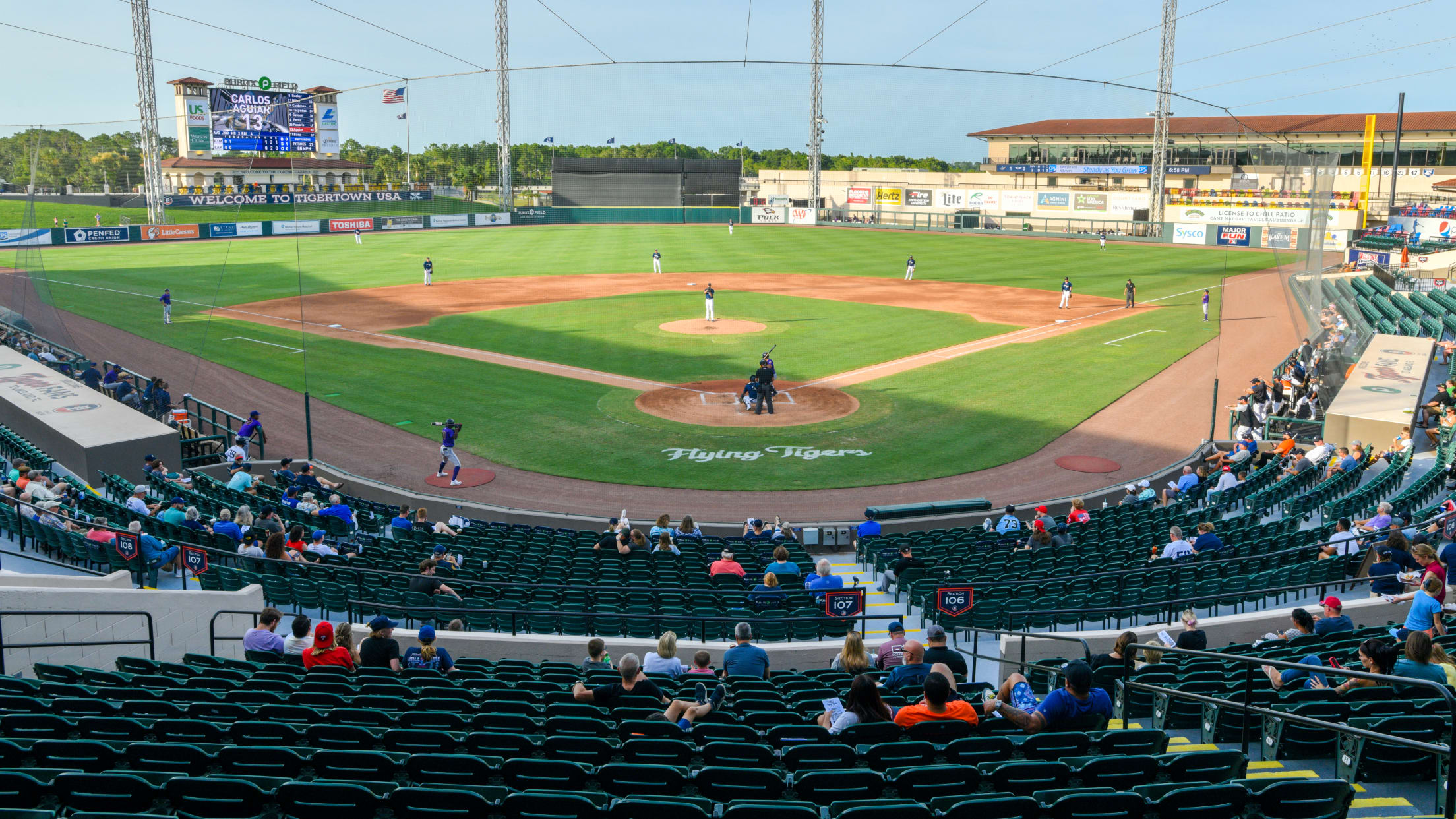 Art or Photo Credit: Tom Hagerty/MiLB.com
No Major League team has had a longer relationship with its current Spring Training home than the Tigers have with Lakeland. But while the Tigers have been training in Lakeland since 1934 (except for World War II), their Minor League team in Lakeland doesn't go back quite as far. In fact, Lakeland's Minor League team began as a Cleveland Indians affiliate, then was a San Francisco Giants affiliate before becoming part of the Tigers farm system in 1963. That's still a long history as Minor League teams go. It's the only full-season Minor League affiliate in the system that the Tigers actually own.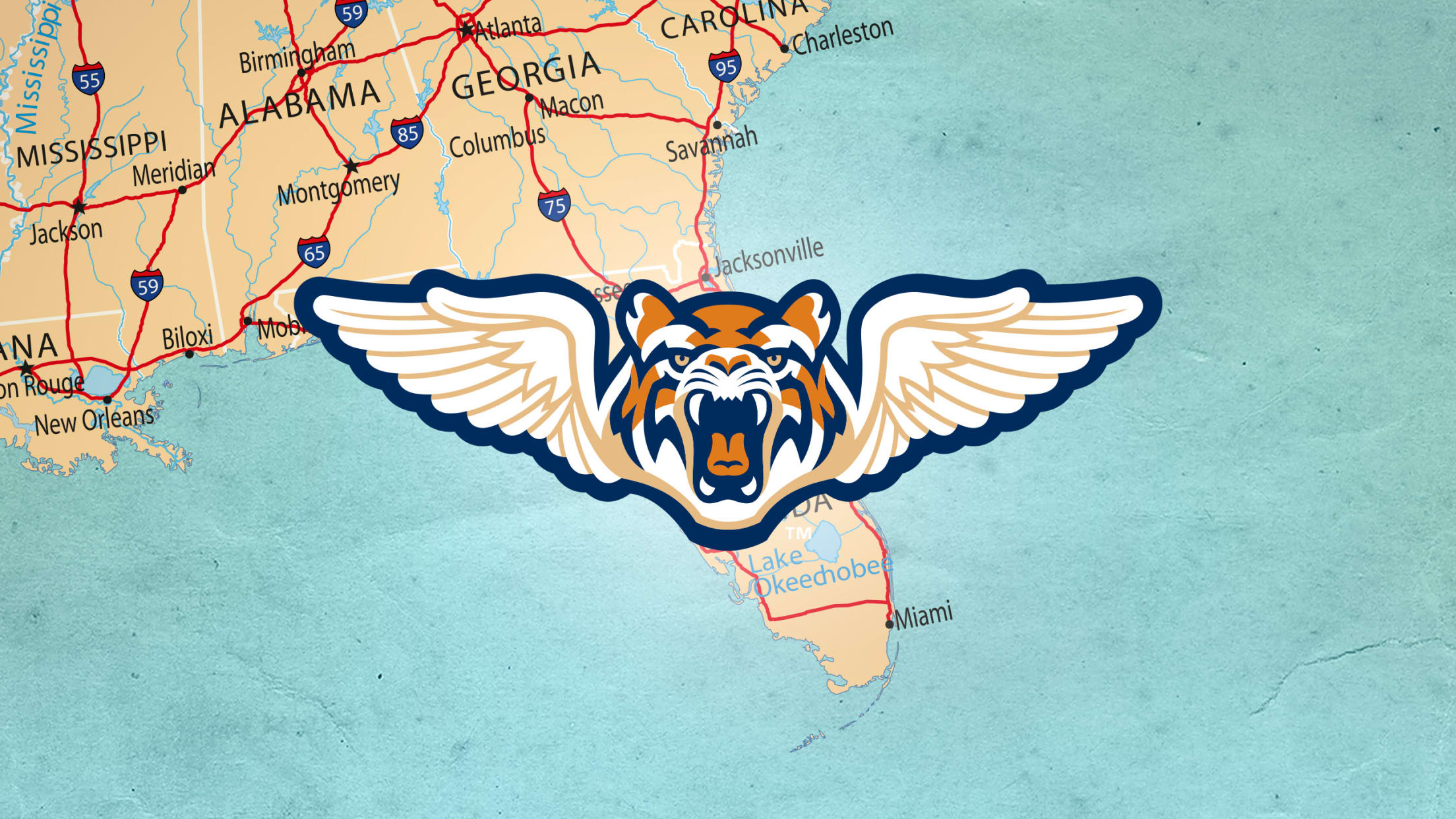 The team was known as the Lakeland Tigers for 44 years before making a slight change to the Flying Tigers in honor of the World War II pilots who received their flight training in Lakeland at the air school where Joker Marchant Stadium and the Tigertown complex currently stand.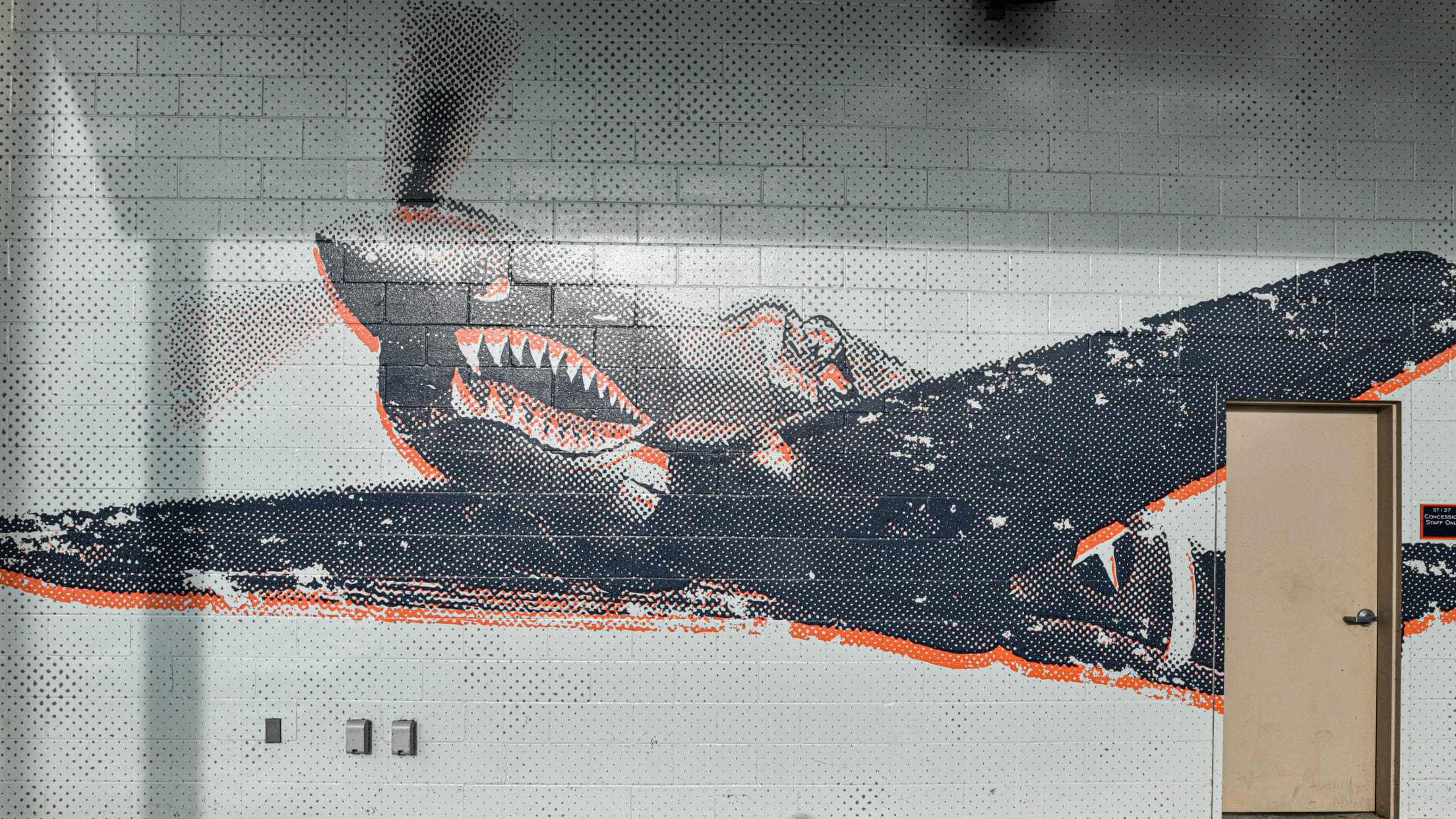 Art or Photo Credit: Tom Hagerty/MiLB.com
Publix Field at Joker Marchant Stadium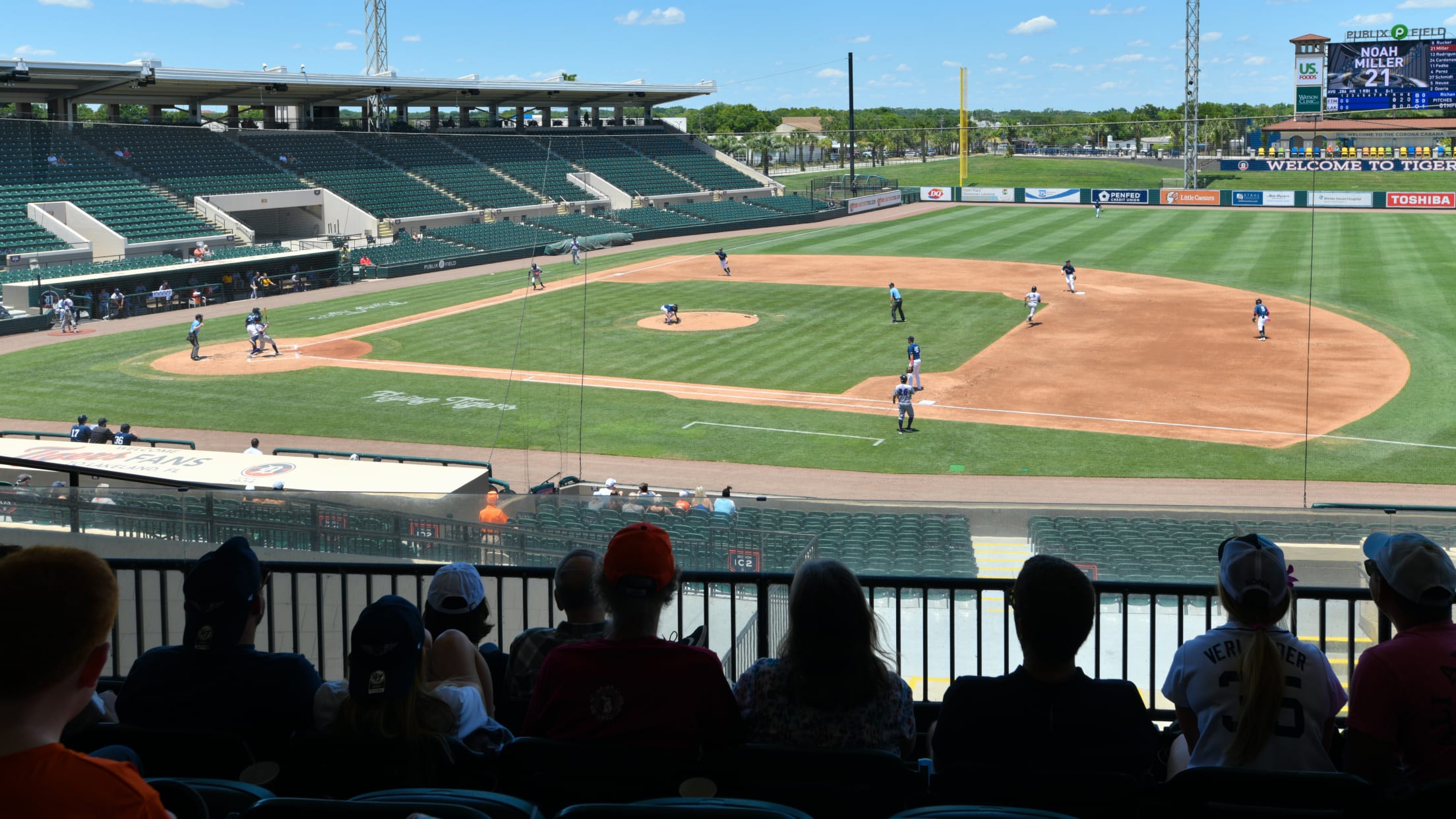 Art or Photo Credit: Tom Hagerty/MiLB.com
Like several Florida State League teams, the Flying Tigers play in the same ballpark that the Major Leaguers use for Spring Training. It's a big ballpark for the big boys, so it plays even bigger for youngsters getting their first taste of full-season pro ball. The backdrop is familiar from Spring Training, from the grassy berm beyond the left-field fence to the giant deck and Tigers administration building over the bullpens beyond the right-field fence. Attendance, of course, is usually smaller for the Flying Tigers than for Spring Training, but the result is a more intimate atmosphere in a ballpark where the seats are fairly close to the playing field.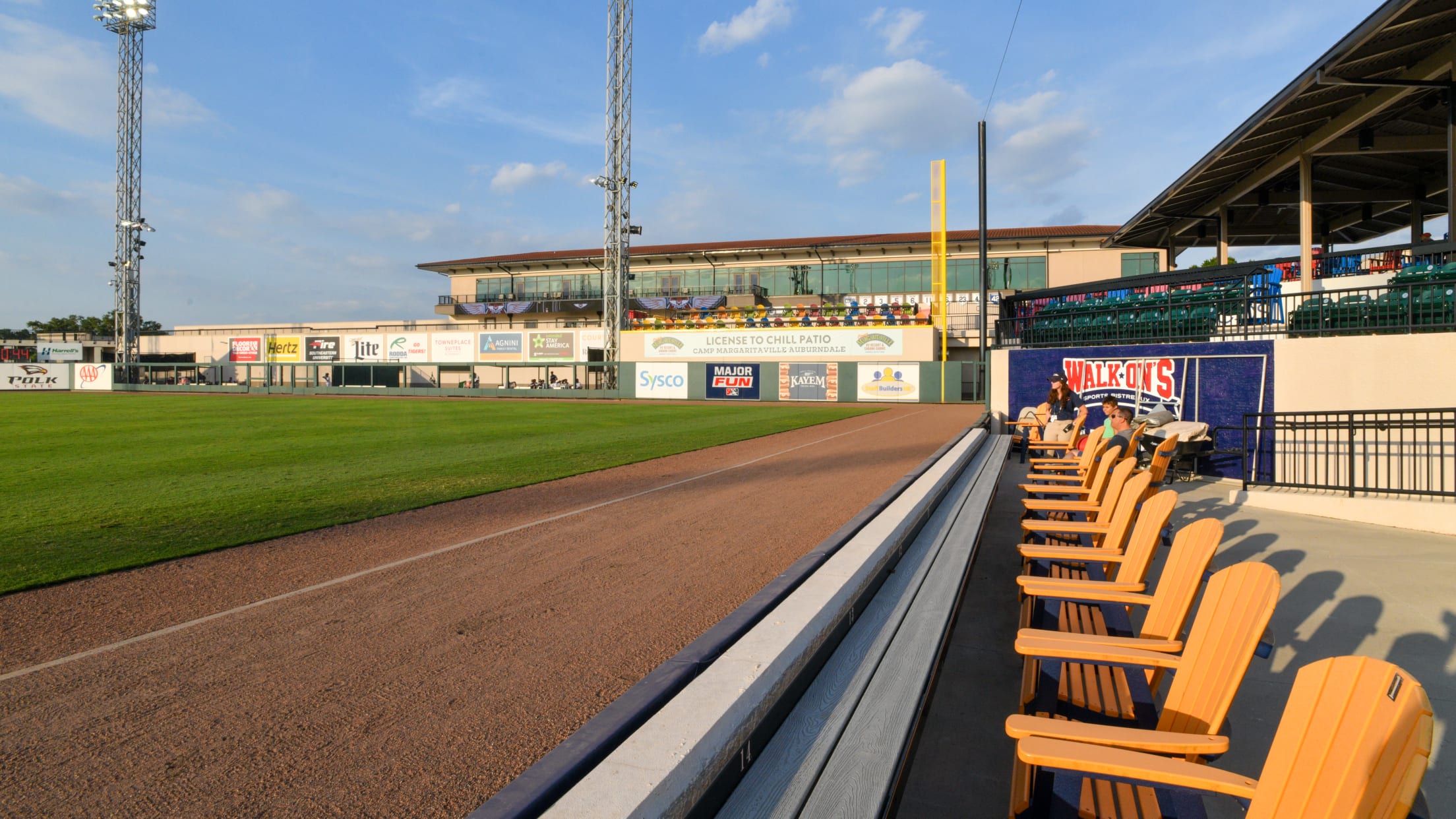 Art or Photo Credit: Tom Hagerty/MiLB.com
The stadium is named after former Lakeland parks and recreation director Joker Marchant, who was instrumental in the construction of the park in the 1960s. A statue of Marchant stands just outside the ballpark to greet fans. The park has had several renovations since then, the most recent one ahead of the 2017 season to modernize the seating down the third-base line, build a concourse that wraps around the field, add a bar area to the left-field berm, as well as a party area in the right-field corner and a hospitality area – known as the '34 Club in honor of the team's first year training in Lakeland — atop the stands down the first-base line. The result is a fairly comfortable ballpark that has aged well.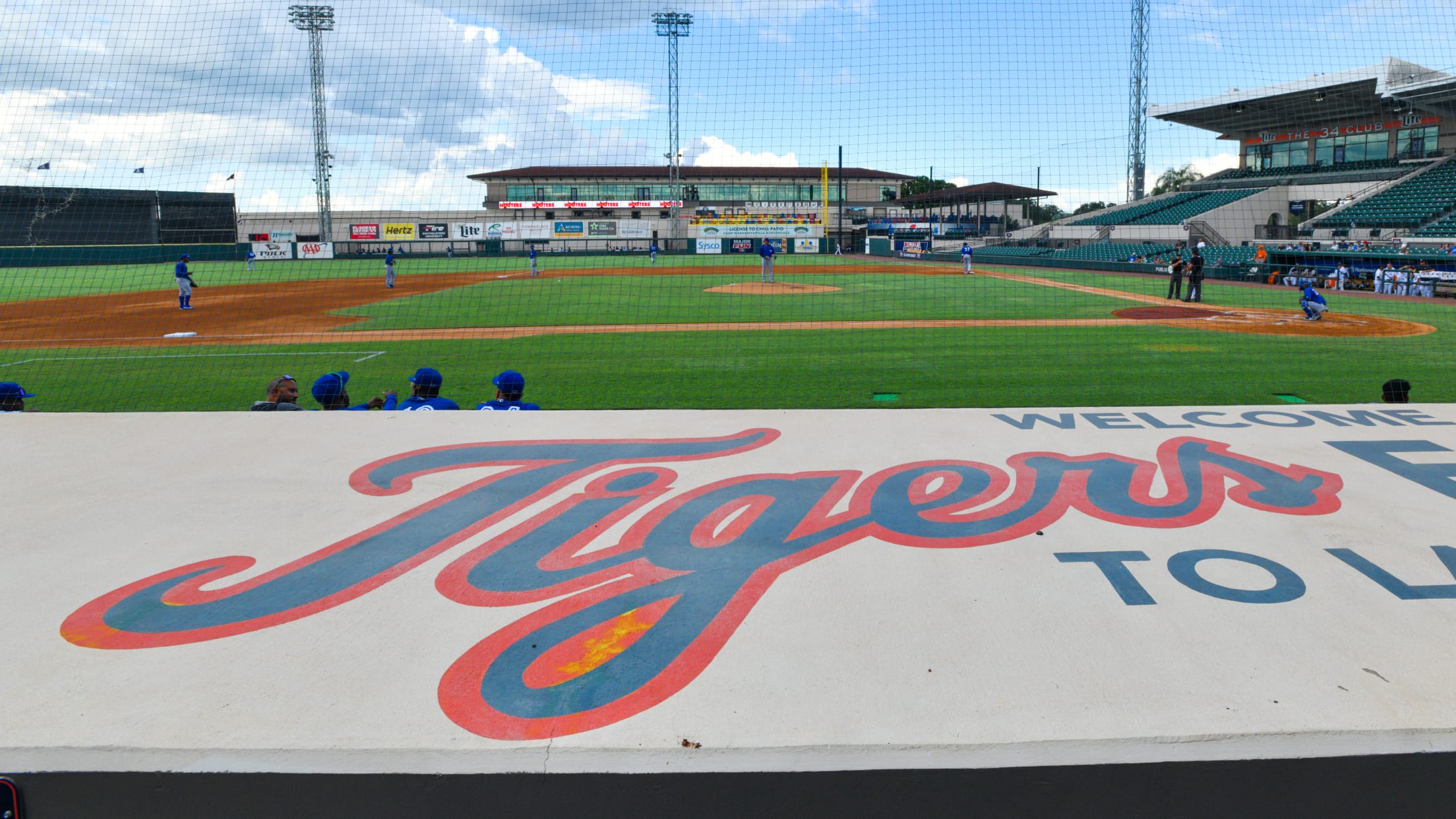 Art or Photo Credit: Tom Hagerty/MiLB.com
Concessions
The Flying Tigers offer a pretty standard fare of ballpark foods for home games, available along the concourse behind the stands. The '34 Club features a wide variety of choices in a comfortable indoor setting, providing shade and comfort from the Florida summers. The Flying Tigers have all-you-can-eat promotions during the season and a Sunday brunch in the '34 Club before Sunday afternoon games. If you're looking to take in the elements while enjoying the game from a unique view, the bar area atop the left-field berm provides a good choice of drinks in a laid-back setting.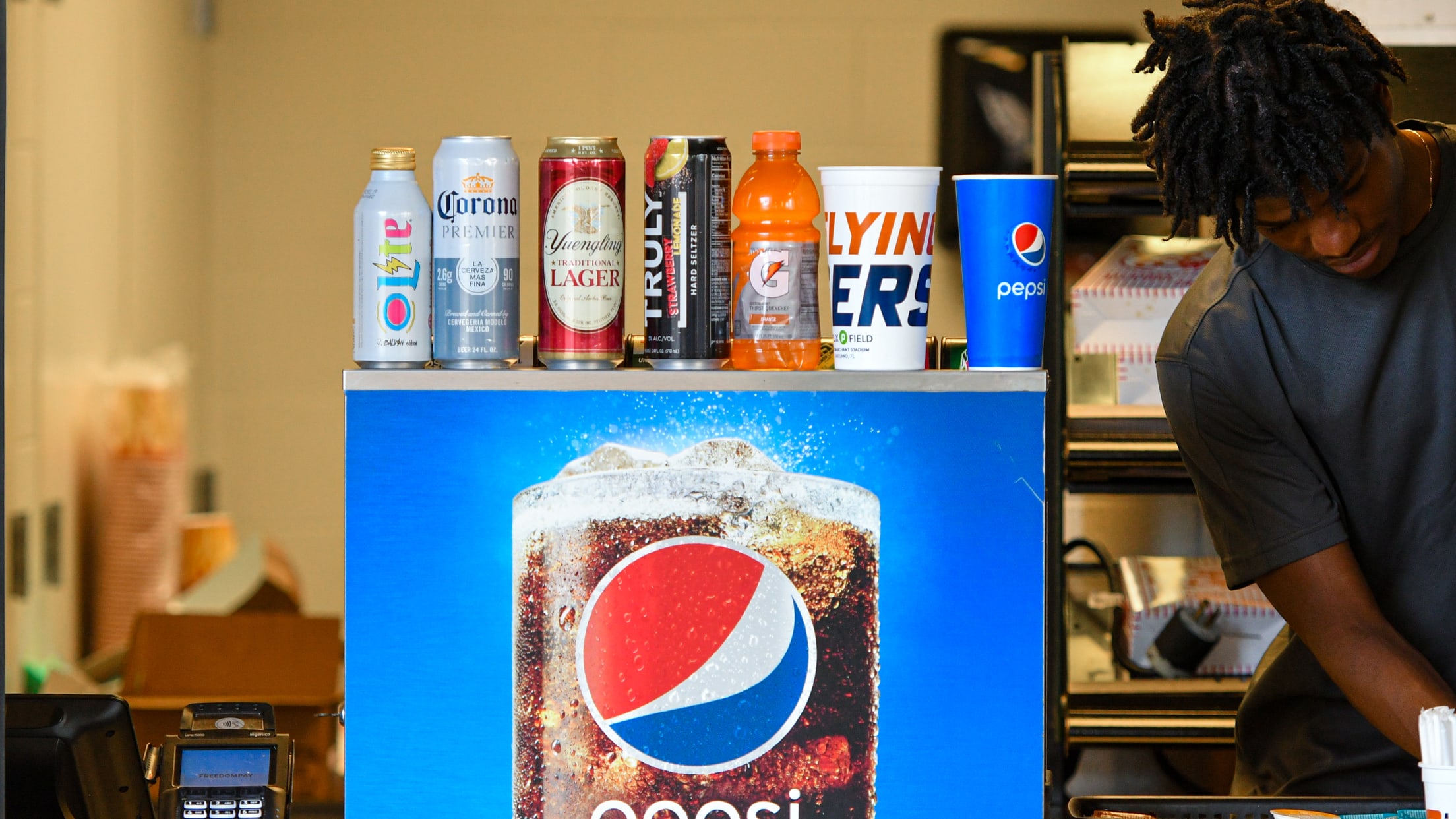 Art or Photo Credit: Tom Hagerty/MiLB.com
Mascot
SouthPaw is the Florida brethren of Detroit's popular Tiger mascot, PAWS. His striped face is all over the ballpark, including on a giant bounce house for kids stationed along the center-field concourse.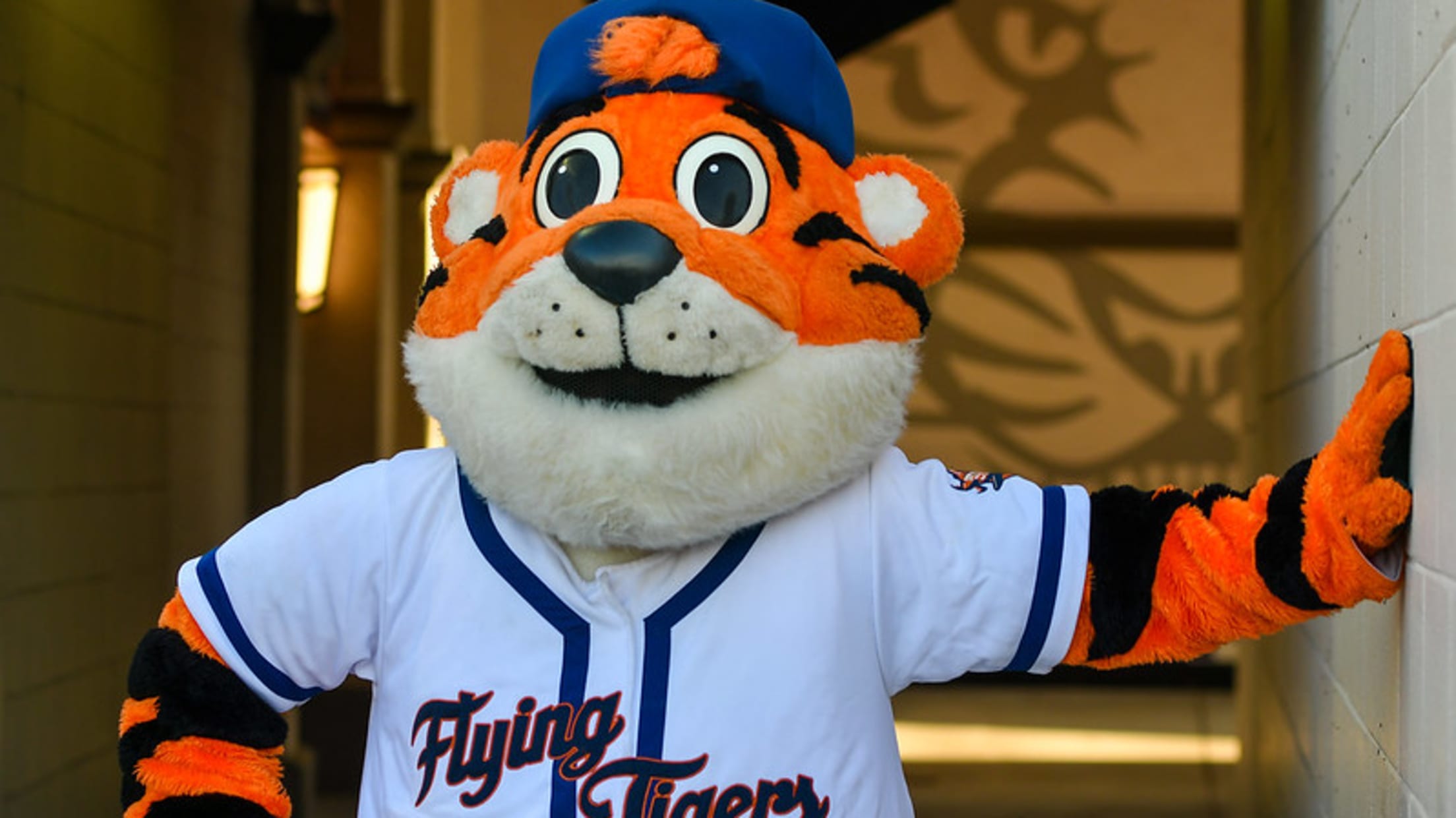 Local Attractions
While Lakeland is conveniently located between Tampa and Orlando, making it a great stop for a Central Florida vacation, there's plenty to do in town. The Circle B Bar Reserve is a converted cattle ranch that's now a wildlife preserve and nature discovery center, providing closeup looks at everything from plants and flora to osprey, bald eagles and alligators along marshland and trails.
Florida Southern College, just south of downtown Lakeland, boasts the largest single-site collection of architecture from the great Frank Lloyd Wright, and has been designated a National Historic Landmark. The school offers guided and self-guided walking tours showing each of Frank Lloyd Wright's 13 campus structures.
Hollis Garden is a beautiful botanical display complete with artwork and fountains located along Lake Mirror downtown.
While you're downtown, you can also check out Polk Theatre, a restored historic venue built in 1928 as a vaudeville and movie palace with Italian renaissance stylings. Its second life features everything from symphonies and ballets to plays and classic films.
Got a kid into LEGO building sets or nostalgic for the days when you built them yourself? The Legoland Florida resort and theme park is just minutes away in nearby Winter Haven. It features rides, attractions, a water park and a mini-land of LEGO versions of attractions from across the country.
Food and Drink
Joker Marchant Stadium is located in between the dining areas of downtown Lakeland and north-side restaurants near Interstate 4. The downtown area features a wealth of spots to catch a foodie's interest. Harry's Seafood Bar and Grille is a local mainstay offering Cajun and Creole dishes. Frescos Southern Kitchen serves up modern and traditional southern eats along with a wide bar menu and live music. Mojo Federal Swine and Spirits serves up BBQ in a blues-themed setting. Molly McHugh's Irish Pub was opened by an Irish immigrant nearly 40 years ago, and features live entertainment and beers nightly. Black and Brew is a spacious downtown coffeehouse offering a wide lunch menu of soups, salads and sandwiches.
Closer to I-4 on Florida Avenue sits a swath of chain restaurants. One that could particularly interest Michiganders is Ford's Garage, a burger and craft beer haven with an auto theme decorated with parts of vintage Ford vehicles and classic-style service stations.
Lodging
There are a couple clusters of hotels right off the interstate, just a five-minute drive north of the ballpark, ranging from motels to more high-end hotels. There are only a handful of options in Lakeland proper, about 10 minutes south.
Moving On
Lakeland sits at the eastern edge of the Tampa-St. Petersburg cluster of Florida State League teams. George M. Steinbrenner Field, home of the Yankees-affiliated Tampa Tarpons, is about a half-hour drive depending on traffic. Phillies and Blue Jays affiliates in Clearwater and Dunedin respectively are about an hour away. The Bradenton Marauders, a Pirates affiliate, are just over an hour's drive.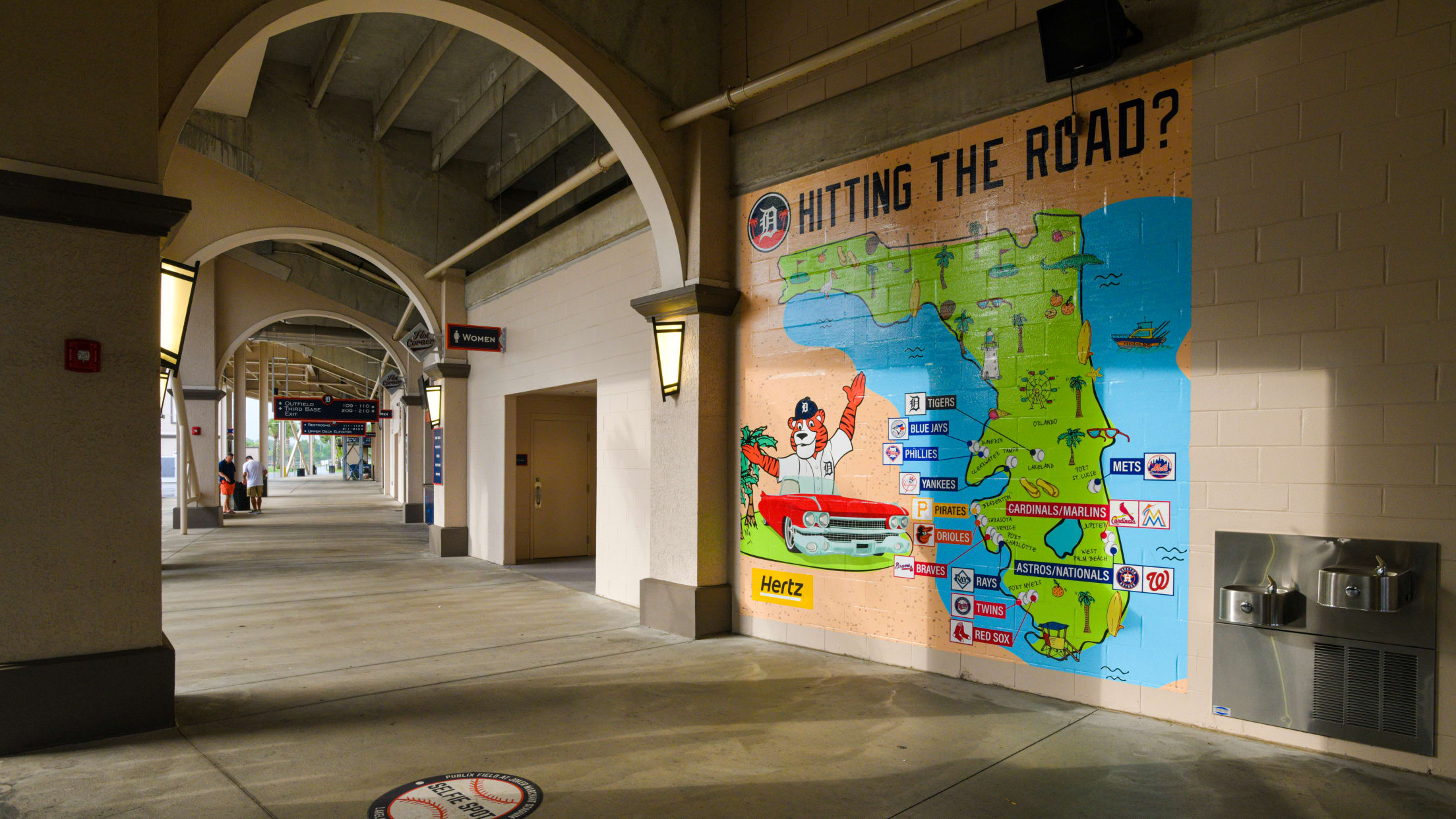 Art or Photo Credit: Tom Hagerty/MiLB.com
The Road to Detroit
Minor League Baseball's realignment before the 2021 season moved the Flying Tigers from High-A to Single-A, making it the first full-season stop along the Tigers' farm system. While the rest of the system is up north, the Tigertown complex makes this an ideal starting point for future Tigers and their fans.